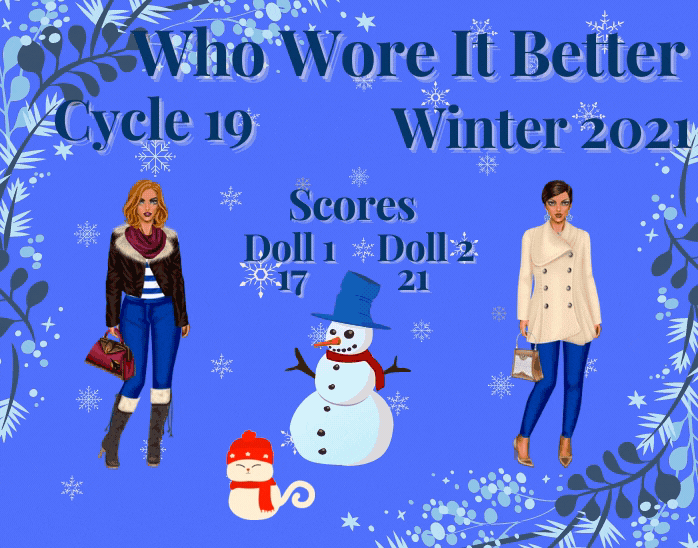 ​
​​



​
​​
​
​​​
You can start submitting your entries now!
Deadline to enter Round 1 is on Wednesday, January 13th and voting will start Thursday, January 14th.

CYO permitted, BUT NO EXCLUSIVES ALLOWED!

​
​​
​
​​​


Who Wore It Better (WWIB) is a dress up battle competition in which you battle your fashion style against other divas!
In WWIB, there are 10 rounds of battles and in each round,
all contestants are given the same item of clothing as a requirement to wear.
How will you stand out from the rest?

Every round, you will be paired in 4 different battles with your created outfit.
Each of these battles will last for 24 hours!




​
​​
​
​​​


Voting is open to all Diva Chix members.
For every battle win, you'll earn 3 points and a prize of 10,000 moolah and 10 coins; and for every tie, you'll earn 1 point.
However beware of a loss, because you'll lose a point!
Your points accumulate each round, and the top 3 people with the most points at the end of the competition win!

All rounds are open for submission.
You can submit for any round at any time as long as that round's submission period hasn't expired.
Each round has a deadline for entering, so keep your eye on it and don't miss out!
​​
​
​​​

​
Prizes
1st Place - 750,000 moolah, 750 coins, 5000 style, 2500 fame, 1000 hotpoints, 5 magical perfumes, and a trophy
2nd Place - 500,000 moolah, 500 coins, 2500 style, 1000 fame, 750 hotpoints, 3 magical perfumes, and a trophy
3rd Place - 250,000 moolah, 250 coins, 1000 style, 750 fame, 500 hotpoints, 1 magical perfume, and a trophy

​
​​
​
​​​
For more details, and to enter click HERE!
If you have any questions post in this thread! Good luck and have fun!