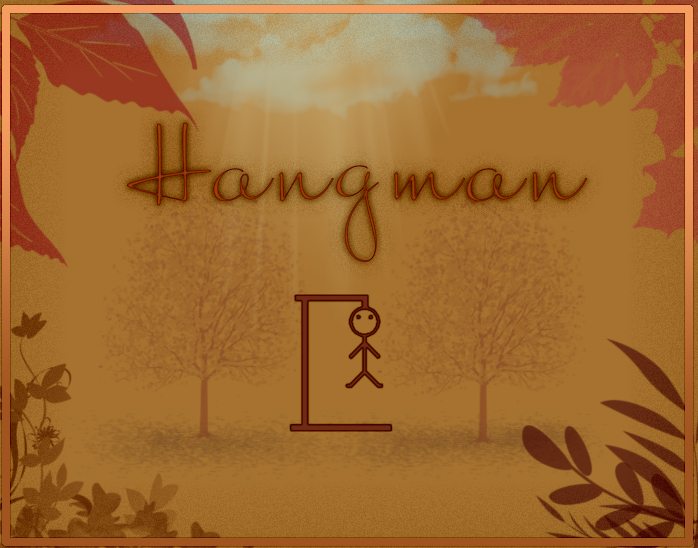 ​
​​​
​
​​







The Diva Chix Staff Presents:




November Hangman









​
​​




Hangman is an age-old game where one player (the Staff Members) thinks of a word or phrase and
the other players (you, the contestants) try and work out what the word is by guessing letters!
All of the words/phrases we use will be related to November!
This is not a team event, but an individual event. Whoever guesses the correct answer first
will win the prize!






​
​​


Rules:

1. Wait until one of the Staff Members has replied to your guess before the same member guesses again.
2. Incorrect guesses include incorrectly guessed letters and incorrect attempts at guessing the word/phrase.
3. If no contestant figures the word/phrase out after 11 incorrect guesses, we will move on to the next word/phrase.
4. All DC rules apply.






​
​​


Prizes:

10,000 moolah + 10 coins per correctly guessed word/phrase!

Round 1 - celestialskies
Round 2 - mollym
Round 3 - rachel3
Round 4 - LOST
Round 5 - rachel3
Round 6 - girlieassassin
Round 7 - michelle
Round 8 - girlieassassin
Round 9 - rachel3
Round 10 - michelle
Round 11 - catellen
Round 12 - rachel3
Round 13 - catellen
Round 14 - girlieassassin
Round 15 - michelle
Round 16 - girlieassassin
Round 17 - rachel3
Round 18 - rachel3
Round 19 - mollym
Round 20 - rachel3
Round 21 - rachel3
Round 22 - michelle
Round 23 - michelle
Round 24 - rachel3
Round 25 - michelle
Round 26 - girlieassassin
Round 27 - girlieassassin
Round 28 - mollym
Round 29 - goldensunshine
Round 30 - rachel3
Round 31 - savvy1
Round 32 - savvy1
Round 33 - girlieassassin
Round 34 - nature20
Round 35 - girlieassassin
Round 36 - rachel3
Round 37 - girlieassassin
Round 38 - savvy1
Round 39 - michelle
Round 40 - rachel3
Round 41 - limeangel
Round 42 - girlieassassin
Round 43 - rachel3
Round 44 - michelle
Round 45 - michelle
Round 46 - girlieassassin
Round 47 - midnightlove
Round 48 - rachel3
​



​​



Deadline:



Saturday, November 28th @11:59 pm