The Big Walk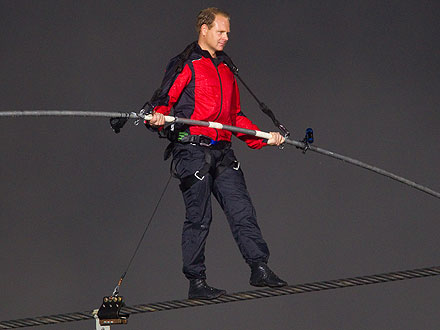 As some of you might have seen, the first walk across Niagara Falls on a high wire was accomplished by Nik Wallenda, an American tightrope walker. Even with the continuous winds and sprays of water, he walked across successfully. The whole trip took 25 minutes when he then finally jumped down onto the Canadian side, meeting two Canadian police officers, joyfully asking for his passport and reason for visiting.
When asking his family members, they were all in agreement, hoping that he will be an inspiration to everyone, proving that you can always accomplish your dreams if you try.
Wallenda had enjoyed the experience commenting that "it's incredible, it's breathtaking."
Did you get to watch this amazing accomplishment? Live? Would you have ever attempted this, given the chance to become the first?